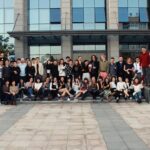 From Oct 26 to Nov, 36 students and 10 teachers from 4 universities (Eindhoven University of Technology (TU/e), Jiangnan University (JU), Nanjing University of the Arts (NUA), Zhejiang Gongshang University (ZJGSU) and Sanming University (SU) joined a two-week international workshop in Taicang, China, in the theme "AFFECTION", designing for social interaction in public spaces, combining physical art forms with digital projections, using techniques and elements inspired by performance arts. In 11 extensive working days and nights, the workshop went through first hands-on lectures on performance theory and its application in design, creative programming and projection mapping, and cardboard modelling, then five design iterations that always finished with prototypes, presentations and feedback sessions. The results were five design concepts, beautifully demonstrated with working prototypes at the final exhibition that attracted visitors from Taicang and Wuxi as well as local television and newspaper.
This was the sixth time this workshop took place. The workshop is one of the core activities supported by an agreement among TU/e DESIS Lab, Department of Industrial Design, TU/e, School of Digital Media, JU, and the Science and Education New Town, Taicang, for mutual interests in digital media, industrial design and cultural industry. Under this agreement, the Sino-Dutch Design Center for Social and Cultural Computing was established in 2012, and one of the core activities of this center was to host and support international workshops that involve the researchers, designers and students from both TU/e and JU, fostering new ideas and concepts for cultural industry especially in the area of interactive public art installations. In this agreement, six workshops were funded with a budget of 900K CNY (roughly 130K EUR), with extra matching funding from Jiangnan University.
All six workshops have taken place according to the plan, involving in total 7 universities, 80 days of activities, and roughly 300 teachers and students, in different themes such as Interactive Patina of Culture, Nature and Affection, resulting in about 50 interactive prototypes. Several prototypes were exhibited at Dutch Design Week 2014 and 2015, and the International Design Expo 2015 in Wuxi. Some of these prototypes were later implemented as permanent demonstrators in the show rooms of Jiangnan University, and one of the early prototypes (Moon rising from Sea) has been implemented in full scale as a permanent installation in the city of Taicang. These workshops also resulted in several interesting publications in the topics of design methodology, user experience and the interplay of culture, art and design. From our department, Mathias Funk, Joep Frens, Loe Feijs, Lucian Reindl, Yu Zhang and Jun Hu have joined the forces and contributed to the success.
This series of workshops has got attention and interest not only from media, but also from industry and universities for the continuation in similar configurations. As from TU/e, we are interested in continuing such an effort in designing for social interaction in public spaces, and in understanding, analyzing and stimulating the social behavior based on the collected data. Public installations, either artistic or functional, as the designed artifacts often aim at an environment or connected spaces in which people and systems interact, being a very good research carrier for the Internet of Things as situated and large scale objects, and for studying the group user behavior and experience.